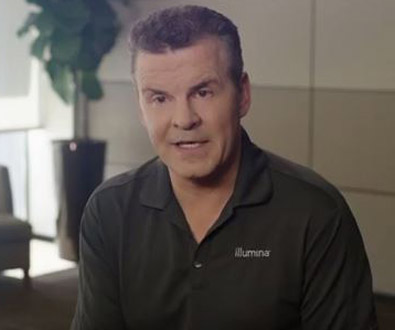 November 2, 2015
Reproductive and Genetic Health (RGH) is one of the most high-growth, high-impact genomic markets. Tristan Orpin, SVP and General Manager of Illumina's RGH business, looks ahead at the significant opportunities and discusses the year's biggest wins.
What is the strategy for Illumina's Reproductive and Genetic Health (RGH) business?
Our strategy is to offer the most comprehensive, integrated set of solutions that address not only the reproductive biology market but also genetic health testing. These solutions encompass four areas:
Pre-implantation genetic screening (PGS) has been demonstrated to improve in vitro fertilization (IVF) success rates by selecting chromosomally normal embryos for transfer and implantation. Preimplantation genetic diagnosis (PGD) can be used to screen embryos where there is a risk of a severe genetic disorder being inherited from parents. Non-invasive prenatal testing (NIPT) delivers early, safe, and reliable answers about the chromosomal health of a developing fetus—minimizing the need for higher risk invasive procedures. Finally, we provide a number of solutions that screen for and detect genetic variants associated with inherited diseases.
In each of these areas, we collaborate closely with our customers to understand their unique circumstances and to meet their needs. We offer common software platforms wherever we can, and provide standardized training programs and infrastructure for the different markets that we support.
At the end of the day, the real value is in offering a complete continuum of solutions that empowers individuals and prospective parents to gain control of their reproductive destiny and healthcare management. Helping couples who have struggled to conceive, with solutions that improve IVF and result in a healthy pregnancy and baby; helping doctors to find answers as quickly as possible when a child has a serious genetic condition – these are just a few of the scenarios that are hugely motivational for all of us at Illumina.
Where do you see the RGH market headed?
This has been a wonderful growth year for RGH. Next year is going to be significant as well. Our market development activities in reproductive health are really contributing to demand from clinical customers. For example, as was noted during our recent Q3 earnings call, sales of our PGS products increased more than 25 percent year over year.
NIPT service revenue, including test fees, grew approximately 20 percent compared to the third quarter of 2014, and we performed close to 50,000 tests. We also recently signed a supply agreement with Counsyl that includes access to our NIPT patent pool. They are our 36th customer globally to acquire these rights.
We are also encouraged to see the recent decision by Anthem to reimburse NIPT for average risk pregnancy, and are optimistic that other top payers will follow suit. We believe the availability of our next-generation solution, VeriSeq NIPT, will further enhance our global opportunity. This new NIPT solution will deliver a PCR-free protocol with a turnaround time of just over 24 hours, industry-best sample success rates, exceptional performance and fetal fraction determination. It will also be provided as a CE-IVD.
Finally, we're in the late stages of enrolling patients in our STAR randomized clinical trial, which will measure the impact of PGS with morphology versus just morphology on IVF success rates. We expect to complete enrollment for this study in early 2016 and to have an analysis of interim results in mid-2016. We hope these results will really help transform the process of IVF embryo selection, from being 'appearance based' to using genetic information and transferring only single embryos that are chromosomally normal, which is the single largest factor affecting IVF rates.
What are the big 'wins' for the RGH business so far this year?

While announced in late 2014, I think the partnership agreement that we signed with Sequenom for integration of all of the intellectual property for NIPT across both companies was a huge win that really came to fruition this year. We strengthened our relationship with Sequenom as well as other partners within the NIPT space.
This year we also formed the Global Fertility Alliance with Genea and Merck KGaA, Darmstadt, Germany. The two core drivers for this alliance are forming guidelines and best practices for fertility labs, from hormonal dosing to genetic testing, and providing educational resources for healthcare providers. We have a strong commitment to improving IVF outcomes, and this alliance is just one of the ways in which we can participate.
Another huge win is in the area of PGD. There are families with a history of severe genetic disorders, who are not comfortable with or are very concerned about starting their own families or who are afraid to have another child. Some of these conditions can be detected during pregnancy. But mentally, it's very different to be able to choose just an unaffected embryo during an IVF cycle – versus becoming pregnant and facing news of severe complications or having a child who may not even live past a few days or weeks. Enabling families to have these choices is incredibly motivating.
What also makes me really happy is that the first PGD babies from karyomapping were born this year. When you hear about these stories you realize that what we're doing at Illumina is having a profound impact at the family level. These families may not have otherwise chosen to have children. There were two babies born in Melbourne this year – on the same day – thanks to this process. This year was actually the 25th anniversary of PGD. One of the 'fathers' of that work, Alan Handyside, works at Illumina.
Looking ahead, we are committed to being a true partner in the RGH space, and not just the technology provider. Everything we do is focused on delivering a truly complete clinical solution. But the most exciting and inspirational aspect for me is getting to spend time with our customers, the clinics, the labs and the families who are impacted by all of this. When you get to hear their stories, you see the amazing impact this technology can have. Being able to help a family have a child without a life-threatening condition, that is hugely inspirational.