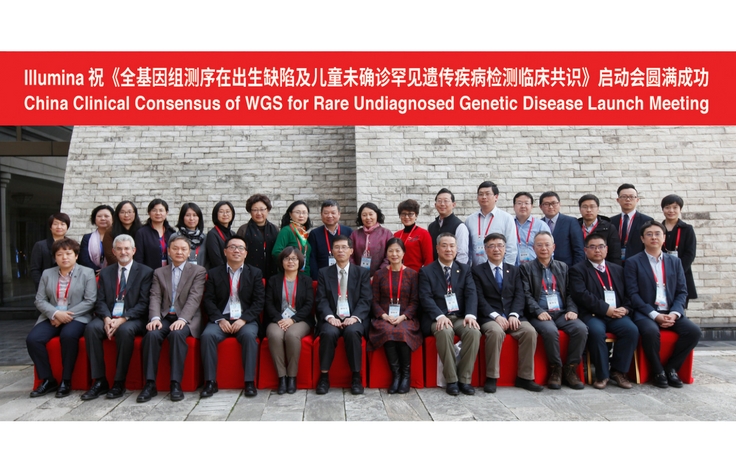 March 15, 2018
Illumina announced a partnership with the Chinese Medical Genetics Association (CMGA) of Chinese Medical Doctor Association (CMDA) to launch whole-genome sequencing for Chinese children with birth defects and rare undiagnosed diseases. Striving to uncover the cause of those undiagnosed rare diseases, Illumina and the experts from Chinese Association of Medical Geneticist, will work together to end what can be years-long diagnostic odysseys for these children and their families.
It is estimated that there are more than 350 million people worldwide living with a rare disease. Global Genes estimates that about half of them are children, and 30 percent do not live to be five years old [1]. Millions of children have lost their lives too soon, or are struggling to survive, as time ticks by with no answers in sight.
The program was created out of an awareness of the challenges facing patients with rare and undiagnosed genetic diseases and their families – many of whom face financial hardship and are not able to access next-generation sequencing-based testing. It's already known that 80 percent of rare diseases are caused by genetic reasons, which means answers can be found in most children's DNA. Unfortunately, families looking for answers have to spend an average of seven years to seek treatment from at least three medical specialists, incur huge medical expenses and at the same time, take risks of a misdiagnosis that can delay treatment or aggravate their condition [2]. Early access to clinical genetic sequencing tests helps doctors to confirm diagnosis as early as possible and change child's life through proper intervention and treatment.
Illumina is unlocking the power of the genome to help people live better and healthier lives.
"Illumina's iHope program was set up in the US in 2017 to help the children who do not have insurance or family financial means to do genomic testing. During the first year of this program, Illumina has found answers for many families and some children who received sequencing results have already begun to receive positive treatment," said Ruilin Zhao, Ph.D., Vice President and General Manager of Greater China at Illumina. "We are pleased to extend these efforts globally into China and work with CMDA to increase the possibility of clear diagnosis for children suffering by diseases and actively find treatment or intervention solutions."
This collaboration is only the beginning, and more partners can join the fight for rare undiagnosed genetic disease testing in the future. The goal is to create more social awareness of these diseases, and the children impacted by them, increase public knowledge on sequencing and genomics, and speak-up to help save children with birth defects and rare diseases.
"We are delighted to work with Illumina, the global leader in genomic sequencing, to launch this first of its kind program on children's rare disease sequencing. We'd like to express our sincere gratitude to Illumina's strong support to this program," said Professor Lingqian Wu, XiangYa School of Medicine, Central South University, President of Chinese Association of Medical Geneticist. "We highly value the output of this program, and until now, more than ten association member hospitals and children's institutes have conveyed interest to join."
As China's first consensus on the clinical application of sequencing in children with rare diseases, the association will draft "Consensus on WGS Clinical Application in Birth Defects and Children with Undiagnosed Rare Diseases Test," to provide guidance on WGS's clinical application in pediatrics.
"We hope that based on this consensus, a genome database of Chinese children with genetic disease can be established to standardize the testing and reporting operations in genetics labs," said Professor Yongguo Yu, Program Principal Investigator, Shanghai Institute for Pediatric Research, Xin Hua Hospital affiliated to Shanghai Jiao Tong University School of Medicine. "The consensus will provide guidance for doctors on the applications and extensions of next-generation sequencing and help more patient families find their answer in the future."
About Chinese Medical Genetics Association (CMGA), Chinese Medical Doctor Association (CMDA)
The Chinese Medical Doctor Association (CMDA) was founded in January, 2002. CMDA is a national, voluntary, not-for-profit, professional association of medical professionals in China. The Chinese Medical Genetics Association, CMDA was established on December 26, 2015 with 113 members in the first committee, among which 32 are standing committee members. Professor Lingqian Wu is the chairman. The association is committed to build a standard workflow for genetic counselling, provide related training courses to improve the national health level and reduce birth defect incidence.
To learn more, please visit www.illumina.com.cn
Reference
[1]. Global Genes®, RARE Diseases: Facts and Statistics
[2]. Wright CF, FitzPatrick DR, Firth HV. Paediatric genomics: diagnosing rare disease in children. Nat Rev Genet. 2018 Feb 5. doi: 10.1038/nrg.2017.116. [Epub ahead of print]