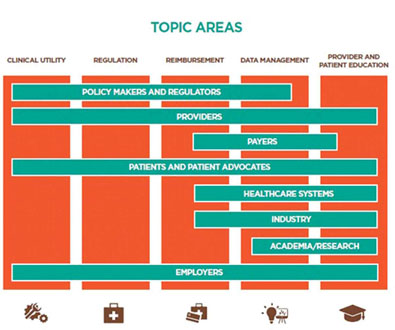 March 2, 2016
Almost 50 experts in academia, industry, policy, and patient advocacy have published a comprehensive paper, "Toward clinical genomics in everyday medicine: perspectives and recommendations," in the latest edition of Expert Review of Molecular Diagnostics. The experts initially came together in November 2014 at a symposium called Understand Your Genome to share their viewpoints.
In 2015, the experts communicated regularly to consolidate recommendations derived from the working groups, which were organized around (1) Clinical Utility; (2) Regulation; (3) Reimbursement; (4) Data Management; and (5) Provider and Patient Education. The resultant paper discusses translating the benefits of clinical genome and exome sequencing (CGES) into the everyday, non-oncological practice of medicine and identifies some of the challenges and opportunities that must be considered.
Multidisciplinary Perspective & Recommendations
As noted in the paper the experts "identified scientific and policy areas where additional attention and evidence development are needed, and proposed a number of recommendations including: (1) generating evidence that quantifies medical utility and cost-effectiveness; (2) customizing regulation to specific use cases; (3) supporting innovative payment models to integrate research and development with clinical care; (4) promoting scalable and iteratively designed 'learning' data systems; and (5) educating providers and patients about both the limitations and potential of genomics in medicine."
Future Outlook
Views were shared on how many years it will take until CGES is fully integrated into the U.S. healthcare system. While the overall conclusion was eight to ten years, the experts agreed "it remains to be seen whether this is sufficient time to accrue the evidence for clinical utility, revise and build a nimble and appropriate regulatory and policy framework, set up a payment system that fosters medical innovation, unleash the power of large datasets, and sufficiently educate providers and patients."
Most of the stakeholders also agreed that the timeframe for integration is no longer dependent on scientific research and development. Instead, they believe advancements will only result from a concerted collaboration. Specifically, healthcare systems, providers and payers, employers and consumers, and industry need to collaborate on meaningful efforts such as educating patients, agreeing on coverage policies, and developing clinical guidelines to promote broader acceptance and adoption.
Conclusion
In sum, "The momentum of several efforts, including the Precision Medicine Initiative, has opened a window of opportunity to integrate genomic medicine into the clinical setting. If these efforts can be complimented by well-orchestrated, collaborative efforts by a range of stakeholders pursuing activities designed to accelerate a shared vision of precision medicine, significant gains in genome-informed clinical care may be feasible by the close of this decade."
The experts added, "The last decade saw great strides in our understanding of disease and pharmacogenomics. It also marked the movement of genetics and genomics into mainstream vocabulary. It is our hope that the next decade of precision medicine will be characterized by equal parts progress in discovery, technology and clinical implementation. This progress will be measured by demonstrated access to CGES across different populations as we move from affluent early adopters to patients often underserved by the healthcare system, and improved health outcomes."