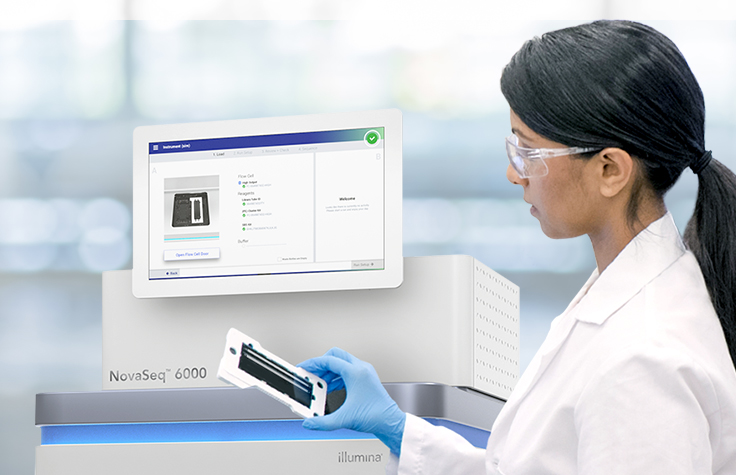 February 5, 2019
The NovaSeq™ 6000 S Prime (SP) Reagent Kits are now available, enabling smaller batch sizes and lower output sequencing methods at a lower price per read compared to NextSeq™ or HiSeq™ Systems. The new NovaSeq S-Prime Reagent Kits are available in 100- and 300-Cycle configurations, as well as a 500-Cycle configuration that will support read lengths up to 2x250bp. In addition to providing additional sample batching flexibility and a longer 2x250bp sequencing, the NovaSeq S-Prime kits are well suited for customers transitioning from legacy HiSeq™ platforms, and for customers that are new to high throughput sequencing.
The new reagents offer faster turnaround time and flexible read lengths.
"When compared to longer-read options on the HiSeq™ 2500 system, the NovaSeq™ 6000 S Prime 500-Cycle Reagent Kit offers higher throughput at a significantly more cost-effective price," shared Joel Fellis, Senior Director, Product Management, Sequencing Systems at Illumina. "Our expectation is that the new read length capabilities will fuel new projects and open up new applications on NovaSeq, particularly around large-scale metagenomics. Additionally, the ability to process smaller batch sizes on the S Prime flow cell will benefit many of our customers as they look to pilot new applications or methods before scaling to a higher output flow cell, or customers who want to quickly process a small number of samples."
"The new reagents offer faster turnaround time and flexible read lengths," said Shawn Levy, Ph.D., faculty investigator and the founding director of the Genomic Services Laboratory (GSL) at the HudsonAlpha Institute for Biotechnology. "This flexibility allows our lab the tools to be creative and cost-effective while accomplishing a wide range of experiment types and applications on a single platform."
The NovaSeq 6000 Sequencing System now offers four different flow cells: SP, S1, S2 and S4. Users can mix and match flow cells and kit configurations to most efficiently execute their experimental plan. The NovaSeq 6000 SP 500-Cycle Reagent Kit is the longest read kit currently available on the NovaSeq 6000 system. To learn more about the advantages of the NovaSeq and the SP Flow Cell, please visit www.illumina.com/NovaSeq.
For Research Use Only. Not for use in diagnostic procedures.