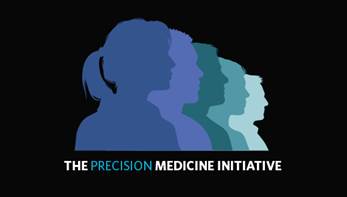 January 30, 2015
On January 30, President Barack Obama hosted an event attended by clinicians, scientists and industry leaders to outline the details of his newly announced precision medicine initiative: a measure to provide the American public with the knowledge and data to develop better, more effective treatment for diseases. The initiative calls for the United States to lead a new era of medicine—one that delivers "the right treatment at the right time, every time to the right person."
Event guests included Illumina's Chief Executive Officer, Jay Flatley.
Precision medicine leverages the information that is gained by sequencing human genomes to deliver care that is tailored to an individual's genetic makeup.
"The dawn of a new era has arrived…If we start today and seize this moment, there's no telling how many lives we can change and every single one of those lives matter," President Obama announced. "The time is right to unleash a new wave of medicine through genetics."
The initiative will be a $215 million investment in precision medicine to include:
$130 million to the National Institutes of Health to develop the "voluntary national research cohort" of a million people.
$70 million to the National Cancer Institute, part of the NIH, for work identifying the genomic drivers of cancer and drug development resulting from that research.
$10 million to the FDA to develop databases needed to support regulatory aspects of the program.
$5 million to the Office of the National Coordinator for Health Information Technology to support systems for secure data sharing across systems.
"Advances in precision medicine have already led to powerful new discoveries," said a White House statement. "This is leading to a transformation in the way we can treat diseases such as cancer."
"Patients with breast, lung, and colorectal cancers, as well as melanomas and leukemia, for instance, routinely undergo molecular testing as part of patient care, enabling physicians to select treatments that improve chances of survival and reduce exposure to adverse effects," the statement continued.
As part of the initiative, scientists will work to create a database of genetic information from one million volunteers, allowing researchers to find patterns in diseases to help discover targeted treatment options.
At the White House event, the president highlighted the success genomic medicine has made, including in cystic fibrosis, by introducing 27-year old medical student, Bill Elder. Elder was diagnosed with cystic fibrosis and has surpassed life expectancy, thanks to new medication that was developed to treat the genetic cause of the life-threatening lung disease.
"That's the power of scientific discovery," the president concluded. "We want Bill's generation…to inherit that most extraordinary gift anybody can imagine—not just a chance to live a long, happy life—but also the chance to remake the world continuously in ways that provide great promise for future generations."
Flatley stated that the new precision medicine initiative is a great move forward.
"Illumina is encouraged by the Obama Administration's proposed precision medicine initiative that will use personalized genetic information to help treat diseases like cancer and diabetes. With the cost of sequencing an entire human genome recently lowered to $1,000, advances in genomic medicine are now more accessible. We applaud an endeavor of this magnitude and recognize this is a significant step toward realizing the full potential of unlocking the power of the genome to improve public health and wellness."